2/10/2004
Russell McBride scored his 50th goal for the club in the 5-2 victory at Lossiemouth.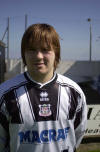 18/9/2004
Ryan Christie scored his first goal for the club at first team level in the 3-1 victory at Rothes in the League. Ryan made his 50th appearance two weeks ago and has added his first goal. It is fitting as he has had a super season so far. Well done Ryan and long may it continue.
11/9/2004
Broch crashed out of the Qualifying Cup and subsequently the Scottish Cup at Cove today with a 4-2 defeat. The game turned on the decision to send off Ryan Christie after the referee deemed his hand ball to be deliberate. By the letter of the law it was a penalty but the red card was very harsh. The lads did well to play for 70 minutes with ten men but luck ran out with six minutes to go when the home side scored twice in a minute. Oh well, there is always next year...............
10/9/2004
Fraserburgh FC had a very successful Golf Tournament at Fraserburgh Golf Course followed by a Dinner at the Leisure Centre. The day was sponsored by Costcutter Grocery Chain and organised by Ian Findlay and everyone at the event enjoyed themselves. Here is a photo of the winning team - "Minerva"
1/9/2004
A bumper crowd turned up to see the bmi Aberdeenshire Cup Final between the Broch and Aberdeen at Bellslea Park. Fraserburgh were leading through a Ryan O'Leary own goal with only two minutes left when Ian Murray was adjudged to have handled in the box. John Stewart scored from the spot to send the game into extra time. The Dons ran out 4-1 winners with John Stewart scoring a hat-trick.
The match was also a milestone for young defender Ryan Christie who made his 50th appearance for the club.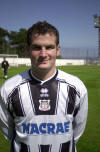 30/8/2004
Broch have been drawn away to Cove Rangers in the next round of the Qualifying Cup. The winners of the tie will progress into the Scottish Cup.
28/8/2004
Steven Main made his 100th Appearance for the club in the 5-2 Qualifying Cup victory at Nairn County. Steven signed for the club in 2001 and has been a regular ever since. Well done Steven.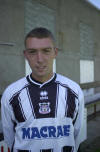 21/8/2004
Michael Stephen scores five goals for Broch in their 6-2 victory over Nairn County at Bellslea Park. This is the first player to score five goals in a game for the club in many many years. According to records the last Broch player to score five goals in a game was a lad Forbes away to Inverness Thistle in a 5-3 League victory. That was in October 1950.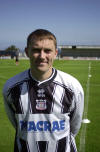 19/8/2004
It was decided tonight that the bmi Aberdeenshire Cup Final between Fraserburgh and Aberdeen will be played at Bellslea Park on Wednesday 1st September with an 8.00pm kick off
17/8/2004
Broch fought their way into the Aberdeenshire Cup Final with a 2-1 extra time victory over Inverurie Locos at Bellslea Park. It was a cracking cup tie and Inverurie must be aggrieved not to have won it in 90 minutes but it was they who actually levelled in the dying seconds of the match to take the game to extra time. Kevin Norris had put the Broch in front with a belter of a goal from all of 35 yards out. The defence with Ryan Christie outstanding held firm until the last seconds when Steven Park equalised. Gavin Wemyss (below) scored the winner in 109 minutes. They now play the winners of the Deveronvale v Aberdeen match at a venue still to be decided.
10/8/2004
Kevin Norris made his 350th appearance for the club in tonight's 2-0 Aberdeenshire Cup win over Cove Rangers. Scott Mackie and Ian Murray were the goal scorers. The Broch now meet Inverurie Locos at Bellslea in the Semi-Final next Tuesday 17th August.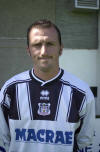 7/8/2004
Broch started the league campaign with a three goal victory over Buckie Thistle at Bellslea Park. Goals from Graham Johnston, Michael Stephen and Kevin Norris saw them to their 3-0 victory.
1/8/2004
Fraserburgh finished as runners up to the hosts in the Lochee United Four Team Tournament over the weekend. On Saturday the Broch ran out 8-0 victors in a very good display against a Raith Rovers 2nd XI. Russell McBride scored three with Steven Main (2), Graham Johnston, Gavin Wemyss and Ian Murray providing the rest.
On the Sunday Charlie Duncan took the chance to play the youngsters against Lochee Utd and although they played very well in an entertaining match the hosts won the match by a single goal.
24/7/2004
Northern Ireland side, Carrick Rangers, were the visitors to Bellslea Park and between the teams produced a hard fought entertaining match. Goals from Russell McBride, William West, Michael Stephen and Ian Murray helped the Broch to a 4-3 victory. William West's strike from 25 yards into the top corner was a highlight but so was Ian Murray's delicate chip from the edge of the box and was worthy of winning any match.
Next week the Broch take part in the Lochee Tournament at Thompson Park Dundee. They will play Raith Rovers at 1.00pm on Saturday 31st and on the Sunday will face either Keith or Lochee United. The Sunday matches are scheduled to kick off at 11.45am and 3.15pm.
22/7/2004
A young Broch side were 2-0 winners away to Turriff United through goals from Mark Cowie and Gordon Mair. It was a decent run out for the side with the season fast approaching.
20/7/2004
Broch went down 3-0 to a full strength Peterhead side at Balmoor. It was a youthful looking side with Ian Murray, Derek Milne, Trevor Fleming, Michael Stephen and Kevin Norris all missing. The youngsters gave a good account of themselves and three goals in 12 minutes at the start of the second half was enough for the home side.
17/7/2004
Airdrie United beat the Broch 4-1 at Bellslea Park today in an entertaining encounter. Fraserburgh played well against their Division One opponents but couldn't hold Airdrie as three late goals sealed an impressive display from last seasons Second Division Champions. Ian Murray was carried from the field with a suspected broken leg and taken to hospital by ambulance but will have to wait until Monday for an X-Ray as initial fears seem to have allayed .
8/7/2004
The draws for the Scottish Qualifying Cup and the Aberdeenshire Cup have been made. The Broch have been paired with Nairn County away in the Qualifying Cup and have a home tie with Cove Rangers in the Aberdeenshire Cup. See Results and fixtures.
7/7/2004
There has been a change of opposition in the Lochee United Four Team Tournament. Dundee have had to pull out but have been replaced with Raith Rovers. Broch will play Raith on Saturday 31st July with a 1.00pm kick off.
28/6/2004
Broch defender Scott Clark was today transferred to Ellon United. Scott had returned to the club at the beginning of last season from Peterhead and was influential in the clubs battle for the League Championship which was won by Clach. Everyone at the club wishes Scott the very best at Ellon United.
20/6/2004
Fraserburgh FC have announced their friendly line up for the close season. The first match will be at Bellslea Park against Scottish Second Division Champions Airdrie United on Saturday 17th July with a 3.00pm kick off. This will be Airdrie's first match since being crowned champions and a good crowd is anticipated.
The following Saturday, 24th July, the Broch are at home to Carrick Rangers from Northern Ireland. Again this will be a 3.00pm kick off. Carrick Rangers were over in Fraserburgh two seasons ago and are keen to return.
On the weekend of Saturday 31st July and Sunday 1st August, Fraserburgh FC have been invited to take part in a four team tournament at Lochee United in Dundee. The Broch have been drawn to play Dundee in the first match which kicks off at 1.00pm. The other teams, Lochee United and Keith play at 4.00 with the winners playing in the Sunday final at 3.15pm. The two losing semi finalist play at 11.45am. Fraserburgh FC and Lochee Utd have built up a fantastic friendship and it is an honour to be invited to play in their competition.
20/5/2004
Fraserburgh hosted the Semi-Professional Four Nations Tournament match between Scotland and Republic of Ireland and Scotland ran out 2-0 winners with both goals being scored by Broch players. Michael Stephen scored the first and Ian Murray the second. Derek Milne also played and it was a proud moment for the club to see three players who all came through the youth set up playing for their country. Below is a picture of all three plus manager Charlie Duncan. Charlie was a coach for the tournament.